¡Hola Fagotistas!
I hope everyone had a marvelous week, because this is
 

I know.  You're excited.
STILL so much to cover from the last month that I was gone.  Amazing pieces, amazing stuff, and new things abound!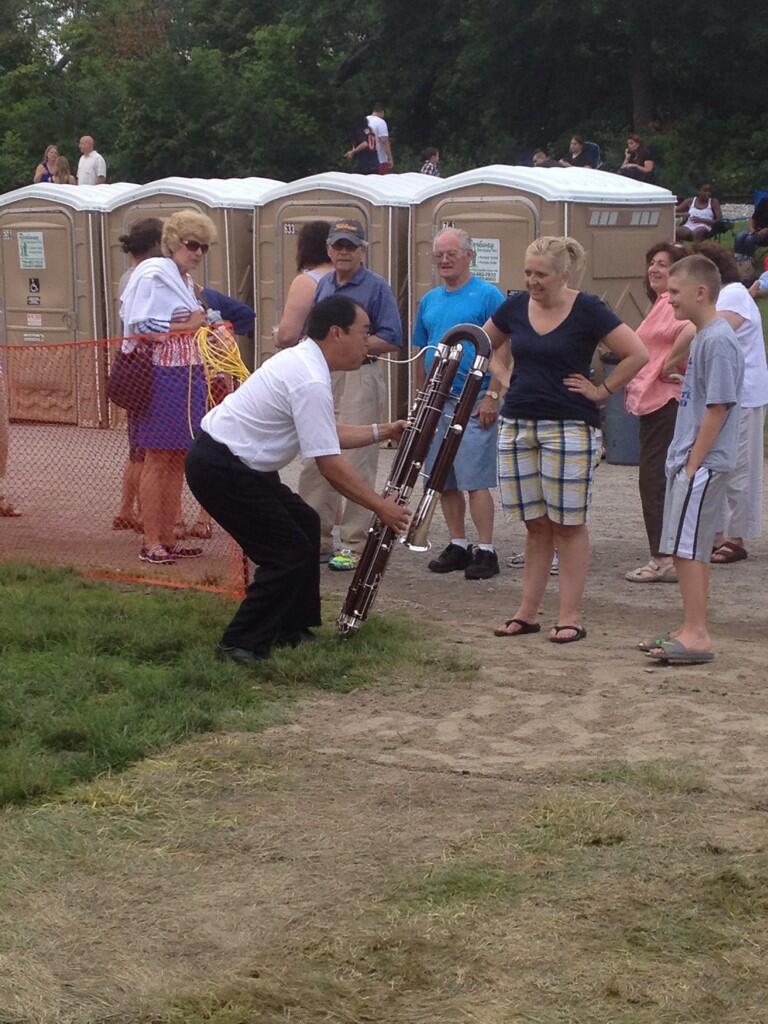 First of all, lets cover things happening that don't involve a video attached.  We have to talk about them.  Because they are amazing, and I say so.
So, after becoming friends with him on Twitter, I found out that David Ludwig is writing a concerto for Daniel Matsukawa and the Philadelphia Orchestra.  How cool is that?  In his blog he writes:
The mission is to write a bassoon concerto that captures the silvery lyrical tone of the instrument (and avoids the Mickey vs. The Brooms effect…).

The piece will be in five movements, each taking from the title of one of Debussy's "Water Pieces…"
I. Sunken Cathedral
II. Sirens
III. En bateaux
IV. Voiles
V. Reflections on the Water

I want each movement to flow into the next—again the idea of fluidity and floating being key. My goal is for the bassoon to sing over the whole twenty minutes of the piece, and for the orchestra to provide a sheen to its color and support to its lyricism. The bassoon is complimented by so many orchestral timbres that I can create a kaleidoscope of sound colors changing around long and lyrical solo lines.
If you don't know who Mr. Ludwig is, I suggest you go to his website.  His blog is pretty awesome, and so is his music.  This work premiers in November, and I can't wait for it to come out.
Also, thank  you Mr. Ludwig, for trying to avoid the Mickey vs. Broom trope (and it is totally a trope).  We totally appreciate it.
Rebekah Heller (bassoonist for ICE) just released her debut album, 100 Names, on June 30th.  Her CD includes
Edgar Guzman:  ∞¿?,  for bassoon and tape 2 (2008)
Marcelo Toledo: Qualia II, for bassoon and tape 3 (2011)
Dai Fujikura: Calling, for solo bassoon (2011)
Marcos Balter: …and also a fountain (2012)  text by Gertrude Stein
Nathan Davis: On speaking a hundred names, for bassoon and live processing (2010)
The title work of the CD was posted in May 2012. Nathan Davis is a composer for ICE, and this work is really beautiful.  I've listened to it many times, and Rebekah is an incredibly gifted bassoonist.
Paul Hanson is also doing some awesome things this month.
Paul talks a little about himself, his experience, improvisation, and skype lessons, which will be totally great (when I have the money for them).
Also, Paul's new group, Oon is posting videos now, and they are also just ridiculous.  There are no words for how incredible it would be to see this live.  If you don't know who they are…go to the website and give them a listen.  Amazing music, amazing musicians.
And, if you haven't had enough, here's another video of Oon.
The Best Bassoon Video of the Week goes to…
Well….
I haven't a clue what's really going on with this video….
Enjoy!
Have a good week, everyone!